The Employee Lifetime Value or ELTV represents the total net value over time that an employee brings to an organisation. Your managerial and/or more senior employees' job is to drive that value throughout the course of an employee's time at the business.
An interview process that a potential employee goes through for a role can help formulate future ELTV, with a good interview process you will be screening for any red flags that could endanger a positive output to your business. 
By putting in place robust policy and procedures to develop talent and bring new hires into a business you can help avoid slow integration into your team and in turn boost your overall ELTV.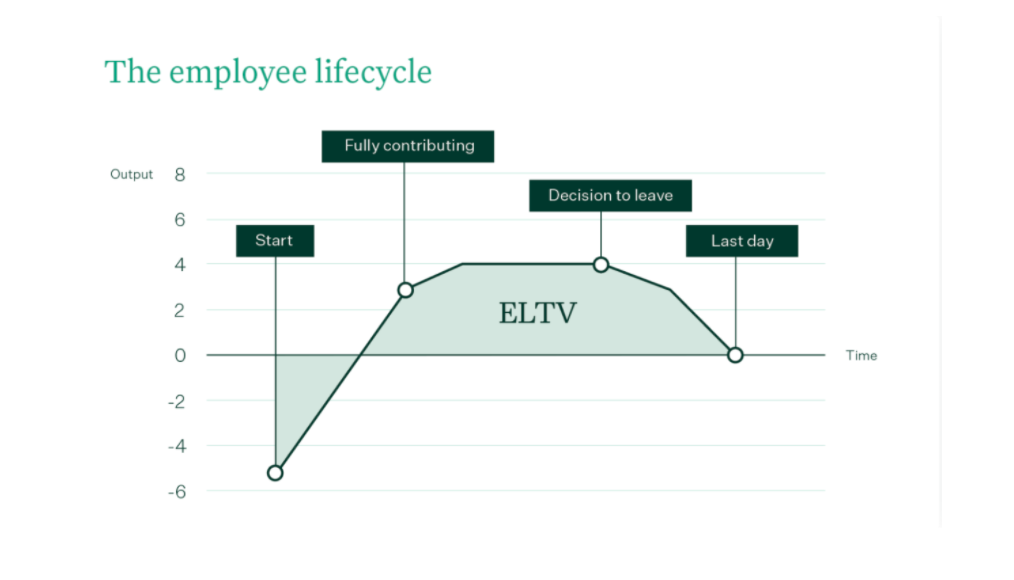 With a bad hire, the possible ELTV will not necessarily pass into positive numbers (As shown above). This can slow down the process of others within the company leading to a plateau in performance. Take a look at how to best run an Internal Recruitment Process here to avoid making a bad hire in the future.
Let's look at a negative ELTV from a Real Estate perspective.
A Graduate Surveyor who passes their APC and subsequently leaves:
The Surveyor in question would exhibit the behaviour shown above in the graph. On becoming chartered and essentially 'fully contributing' to the company they will decide to leave and pursue their career elsewhere. In turn reducing the timeframe between maximising their output and exiting the business.

Alternatively, if the candidate in question remains with the company post qualification and works their way up to directorship their possible ELTV has maximised your return on investment from cost of hire to time spent training. In turn, leaving rewarding both yourself as an employer and your new employee.
What to focus on:
Shorten an employee's ramp time to become a fully contributing member of the team

Increase how high they can go (in terms of output/ career progression)

Lengthen the time someone chooses to spend at your company

Train well in order to retain your employees!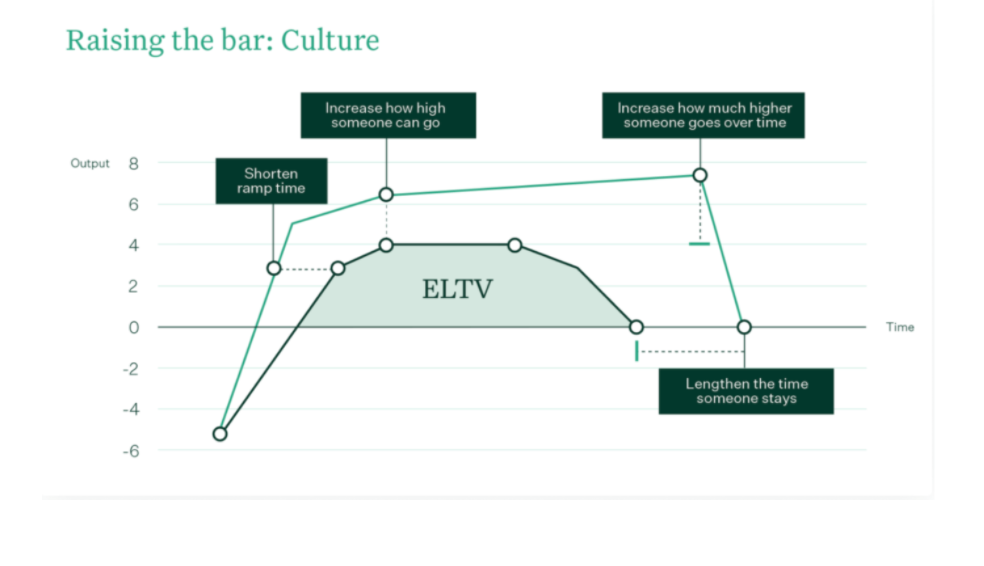 Candidate Led or Candidate Strong Markets
Taking leave from the current state of the market, let us imagine that it is highly candidate led and very competitive. How can you sell your business to candidates as much as they are selling their skills to you?
Firstly, what will a candidate be gaining from you that they can't gain somewhere else? Can you offer exposure to market leading deals, can a prospective analyst run transactions from cradle to grave with client facing work? – Or will this be left to the associate directors?
Secondly, how will you nurture your employees? More and more with the aftereffects of Covid19 does remote working come into play. An employer must understandably maximise output of employees, making sure a business is being as efficient as possible. The new norm is remote working whether you offer a hybrid mix of office and working from home. What is your candidate's preference to a working environment? 
 In essence, an employee's ELTV considers many variables including their output and any addition they make to a company as well as their prospects and input. Your new employee could evolve into part of an onboarding team and therefore maximise their own ELTV whilst accelerating others professional life cycles.
ELTV to understand the ROI of your hiring efforts | Greenhouse